Some history....
---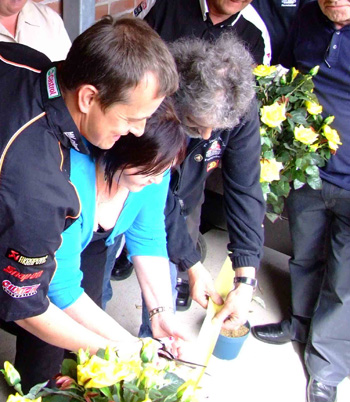 In July 2008 the Joey Dunlop Foundation Trustee's bought Braddan Bridge House. The property offers a great location, is large enough to accomodate the charity's expected requirements, has ample car parking, close to Nobles Hospital and other amenities and offers room for future expansion.
It sits at a bend in the road on the TT course, at the end of a fast straight. Viewers from the house can see the bikes race up to the turn, slow, present a great side-on view, then speed off again down the next straight.
The JDF Braddan Bridge scheme was financed by the sale of the previous Victoria Road site and with the funds from the charities banked capital. The Joey Dunlop Holiday Home was formally opened on the 6th June 2010 by Linda Dunlop accompanied by John McGuinness. 2017 saw the opening of two new apartments. Joey's son Gary Dunlop and nephew William Dunlop formally opened them in August 2017. The furnishings such as beds, bedroom furniture, shower chairs and mattresses have all come courtesy of the Manx Lottery Trust, just one of the may supporters who donated to this amazing cause.
The main aim of the JDF has always been to create visitor accommodation that will open up the Isle of Man to visitors with disability. All apartments will include wet room facilities with level access. When completed it will be available all year round for all visitors needing specialist facilities. To ensure this building is fitted out to compliment Joey's stature your continued support is greatly appreciated and the fund raising campaign continues.
The Foundation Committee Members
---
Patron
Linda Dunlop
President
Richard Quayle
Vice President
John Harris
Vice President
Bob Jackson
Trustee, Legal Adviser
John Watterson
Chairman
Bruce Baker
Trustee
Barry Steels of Lincolnshire ( T: 07887 610498 )
How You Can Help Us To Raise Funds
---
If you would like to support our cause there are several ways of doing so. If you work in an office type environment then ask about the possibility of having a Dress Down Day. We have seen this work well in the past. If you are part of a club or group who meet occasionally then maybe you can organise a sponsored walk, hill climb, football match, bike ride or anything similar. Other events such as holding a coffee morning, car boot sale, car wash day and even offering a dog walking service can be excellent ways of raising a few pounds.
If we can get enough people involved in taking part in any of these types of events then it will hopefully allow us to complete our objective a lot quicker.
If you would like to donate directly to the charity, please click here to be taken through a Paypal donations scheme. Alternativly, cheques can be sent to Mr. Bruce Baker ( address at foot of this page ), made payable to 'The Joey Dunlop Foundation'.
Some of our many sponsors..
---
Useful Links..
---