Road Racing News grab Best Automotive Road Racing Platform 2023....
Fri, 27 Oct 2023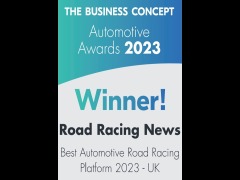 Congratulations to Stevie, Steve & Debra of Road Racing News.
Launched back in 2013, RRN website was designed with the prime focus to bring the public, the best objective and up to date news about the most exciting sport on Planet Earth. The new site allowed us to communicate pure road racing news to millions of fans worldwide.
Editor Stevie Rial, "I am fortunate and privileged covering the racing, generating reports, and interviewing the stars of the sport, my heroes, and what makes them tick is fascinating, and an honour. To have had ten years of reporting around the globe and writing 10,000 articles, enjoying viewership from over 130 countries, still amazes me.
Stevie and the team at RRN have supported the Joey Dunlop Foundation for many years and promoted the work we do.
The team at JDF are so pleased that RRN has scooped this amazing award, Well Done RRN.